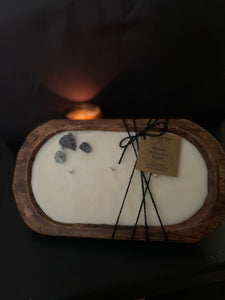 Ohio Wick House
Sirens Dwelling Place Wooden Bowl
Regular price
$34.00
$0.00
Unit price
per
𝘺𝘰𝘶 𝘤𝘳𝘢𝘸𝘭𝘦𝘥 𝘧𝘳𝘰𝘮 𝘵𝘩𝘦 𝘴𝘦𝘢 𝘵𝘰 𝘣𝘳𝘦𝘢𝘬 𝘵𝘩𝘢𝘵 𝘴𝘢𝘪𝘭𝘰𝘳𝘴 𝘩𝘦𝘢𝘳𝘵…
🌊
𝑺𝒊𝒓𝒆𝒏𝒔 𝑫𝒘𝒆𝒍𝒍𝒊𝒏𝒈 𝑷𝒍𝒂𝒄𝒆 is inspired by the enchanting dark mythical creature of the sea. Intoxicating earthy patchouli is blended with enchanting tropical coconut with a sweet vanilla finish to create this hypnotic scent.
3 Wick Wax Safe Wooden Bowl
All natural fragrance oil
All natural soy wax
100% cotton non-toxic wick
50 hour burn life
Hand Poured
*each wooden bowl is unique you will not receive the one in the photo.
Do not burn candles in a draft.  

It is unsafe and can also cause the candles to burn unevenly.

Never leave a burning candle unattended.

It is recommended that you don't burn a candle made with this bowl to the bottom where the flame could come in close contact with the wood. 
Ohio Wick House is NOT responsible for any mishaps caused.  These warnings are not all inclusive and you should understand  that you are burning candles at your own risk.
---